A Tour of the Novel's New York City Locations
LARRY CLOSS
I've always loved books that blend fact and fiction to create a heightened, altered reality where stories are more epic, characters more archetypal, feelings more raw. I especially love when those books are set in New York—like Time and Again by Jack Finney, Forever by Pete Hamill and Winter's Tale by Mark Helprin—where the city itself becomes a character. My own novel, Beatitude, is set in the New York of 1995, where fictional characters occasionally interact with versions of real people in very real locations. Here are a few of my favorites.
1. New York Public Library
Fifth Avenue at 42nd Street, NYC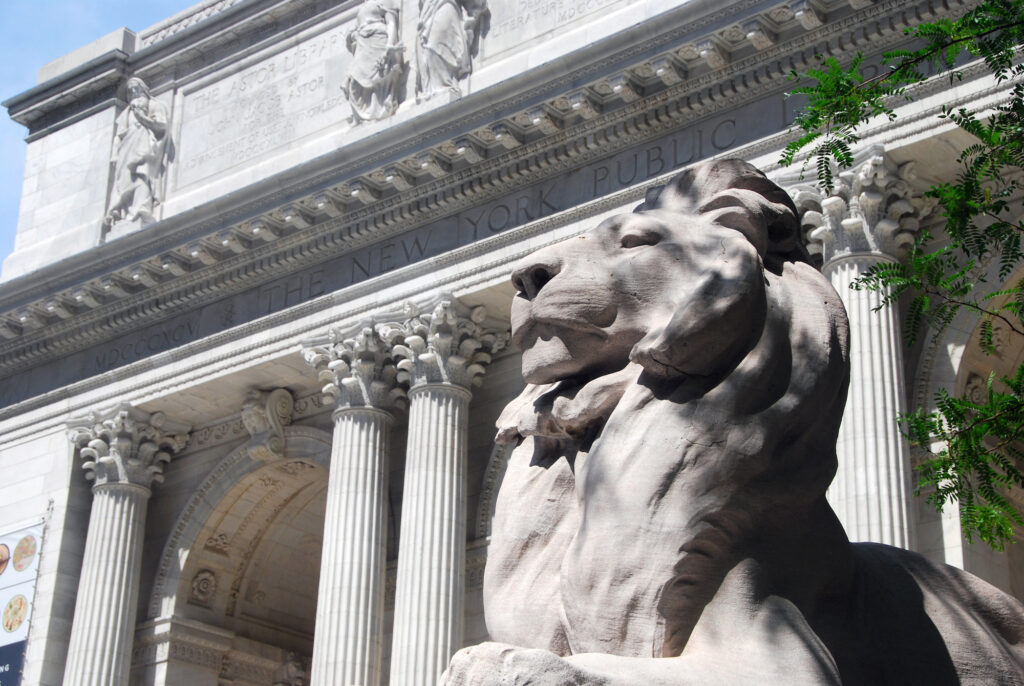 We entered the beautiful Beaux Arts building through the main doors on Fifth Avenue, passing between Patience and Fortitude—the most famous pair of marble lions on the planet—and pausing just inside the magnificent vaulted entrance hall to inquire at an information desk how to get to room 316.

—BEATITUDE
The twin lions that flank the entrance of the New York Public Library's magnificent marble headquarters are as symbolic of New York as the Empire State Building, Brooklyn Bridge and Statue of Liberty. Mayor Fiorello LaGuardia provided their nicknames in the 1930s, dubbing them Patience and Fortitude in honor of the qualities New Yorkers needed to navigate the Depression. In Beatitude, Harry and Jay visit the NYPL for a private viewing of Jack Kerouac's legendary On the Road scroll, then on loan to the Library. Though the scroll is no longer in the Library's holdings—it was sold at auction in 2001 by Christie's in New York and won by Indianapolis Colts owner Jim Irsay for a record-setting bid of $2.43 million—the NYPL has since acquired the Jack Kerouac Archive, open to scholarly research, which contains more than a thousand manuscripts, notebooks, journals, diaries, correspondence and publishing contracts. The lengthy evolution of On the Road can be traced through three notebooks and six drafts, starting with Ray Smith Novel of Fall 1948.
2. The On the Road House
454 W. 20th Street, NYC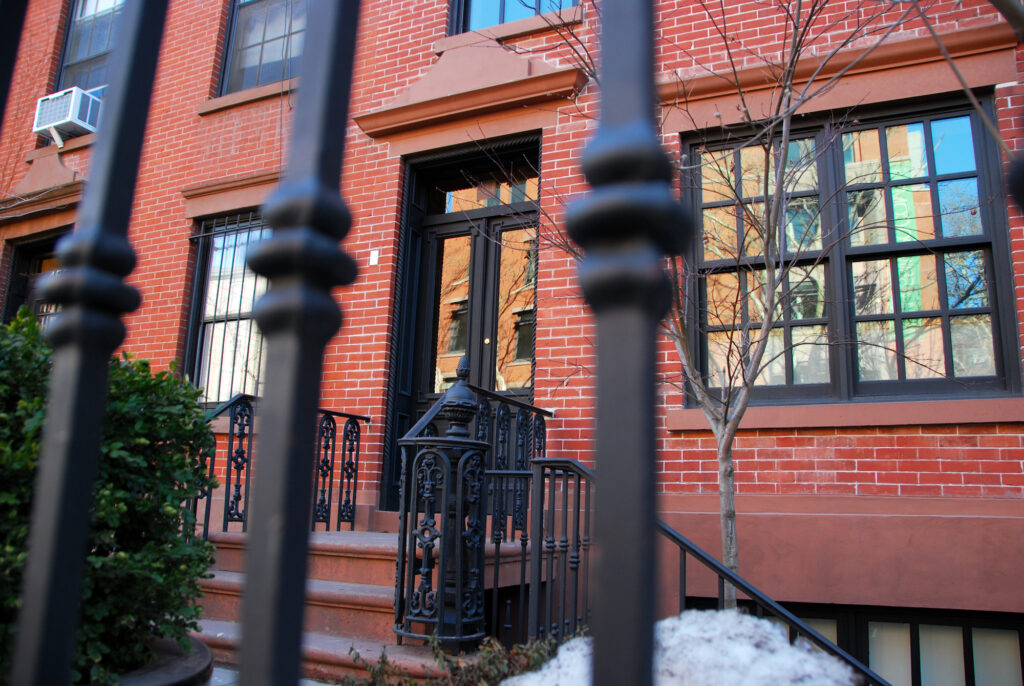 "He wrote it up there," she said, pointing to the window above the door. "In the second-floor front apartment."

—BEATITUDE
In 1997, there was a For Sale sign on the shabby exterior of the four-story red-brick row house at 454 W. 20th Street where Jack Kerouac wrote the 120-foot scroll version of On the Road. Shortly after, the house was sold for $1 million. A very good investment, in retrospect. Though the neighborhood was decidedly blue-collar when Kerouac and his second wife, Joan Haverty, lived there in 1951, it's now home to boutiques, bistros and the High Line, a spectacular park built on an abandoned elevated railway. The scroll house was sold again, in 1999, for $1.9 million and once more, in 2005—after a complete renovation—for $5.4 million. There's no plaque noting the building's literary significance though the real estate listing for the most recent sale did mention the Kerouac connection. Nearby, at the corner of W. 20th Street and Seventh Avenue, is where Sal and Dean say their final goodbye in On the Road: "Dean, ragged in a motheaten overcoat he bought specially for the freezing temperatures of the East, walked off alone, and the last I saw of him he rounded the corner of Seventh Avenue, eyes on the street ahead, and bent to it again."
3. Rudy's Bar & Grill
627 Ninth Avenue, NYC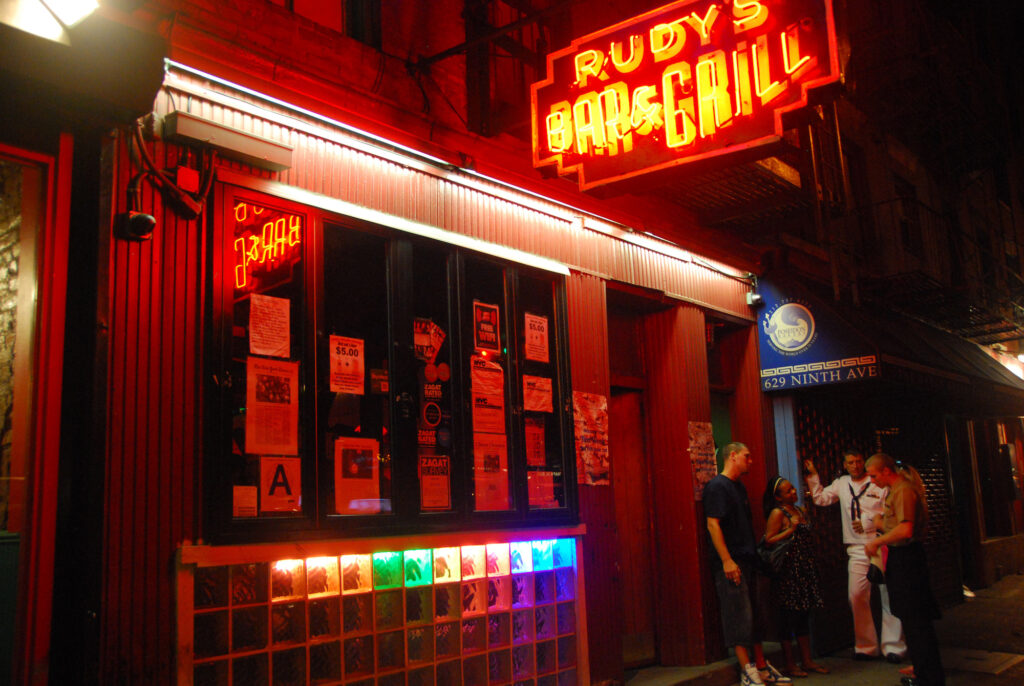 "Do you feel like going someplace crazy?" he asked.

—BEATITUDE
To celebrate their viewing of the On the Road scroll at the New York Public Library, Harry and Jay spend a night downing pitchers at New York's quintessential dive bar, Rudy's. Even as the surrounding neighborhood—and the rest of Manhattan—has slowly lost nearly all sense of atmosphere, the infamous Hell's Kitchen hole-in-the-wall has stubbornly held on to its Beat ambience. Every night at Rudy's, an eclectic crowd of slackers, suits, sailors, hackers and hipsters consume vast quantities of cheap beer and free hotdogs while vying for one of the red-vinyl booths. The only concession to changing tastes and times is the jukebox. Once named best in the city by Rolling Stone for its collection of classic bebop, the jukebox now also plays classic rock. Mingus, Miles and Ella now share a playlist with Bono, Bruce and Janis, but it's still NYC's best place to get lost.
4. Westway Diner
614 Ninth Avenue, NYC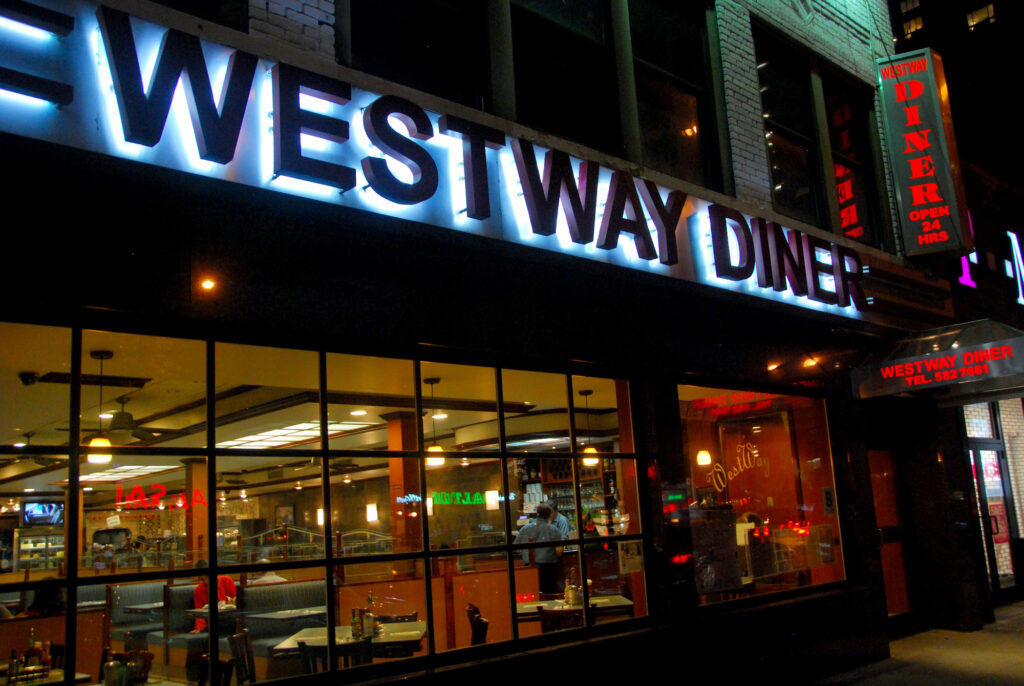 The Westway Diner was nearly empty, save for the usual nighthawks who roosted at odd hours in twenty-four-hour eateries and dreamed of better lives over blue-plate specials and bottomless cups of questionable coffee.

—BEATITUDE
You can get just about anything you want, anytime you want it, at the Westway. Harry and Jay devour burgers and fries over a heart-to-heart at four in the morning, but their conversation follows another momentous one that occurred in the classic diner. The Westway is where, in 1988, Jerry Seinfeld and Larry David first discussed the idea of creating the television show that became the television phenomenon Seinfeld. "The thing I remember most about that night at the Westway Diner," Seinfeld once told New York Magazine, "is that I had two cups of coffee. And I don't drink coffee. So I remember sitting there, having a second cup of coffee—and that was kind of an indication that we were onto something. Maybe that's where the whole show came from—too much caffeine."
5. Coffee Shop
28 Union Square West, NYC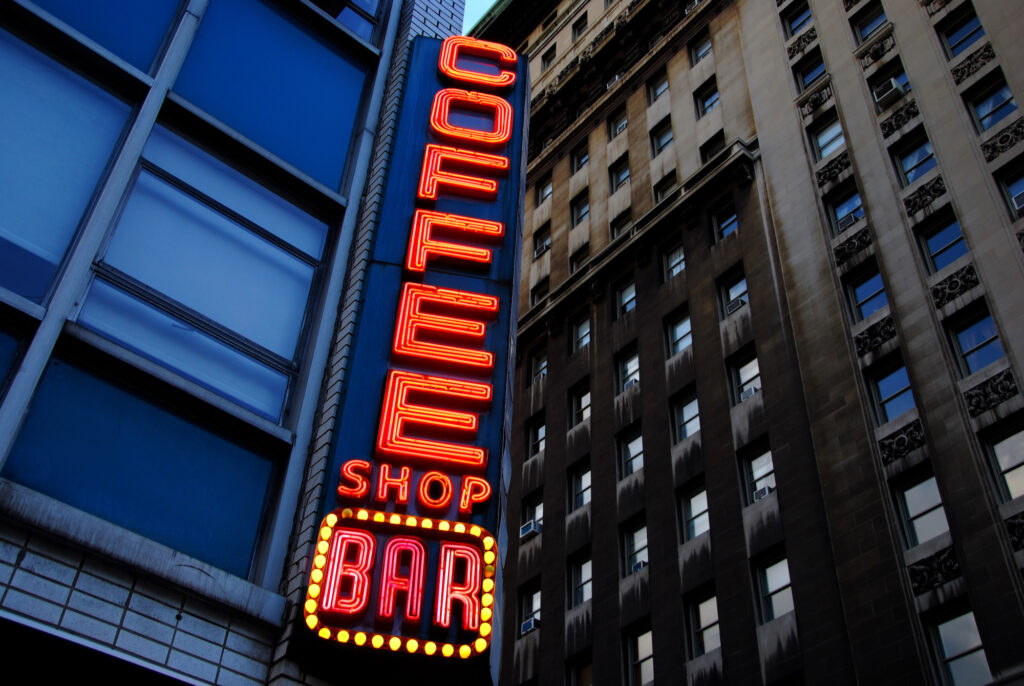 "It's where all the unemployed actors and models hang out," cracked Jay.

—BEATITUDE
Jay sums up the clientele of the Coffee Shop as Harry heads off to a press party there for a new television series starring poets and poetry, but Jay's observation about the Coffee Shop of 1995 was true all the way up to 2018, when the famed haunt of the hoping-to-be-famous closed after 28 years. In the Coffee Shop's heyday, New York Magazine praised its inexpensive eats, sidewalk seats and "surprisingly good drinks," but pointed out that visitors faced "a high risk of poor service and unpleasant encounters with attitudinal (but often pretty) people." In the same vein (vain?), the Village Voice named the Coffee Shop "Best Bar for Modelizers" in 2010. In 2020, a combination Chase Bank–Joe Coffee opened in the space and the Coffee Shop's iconic neon was replaced with what Gothamist called a "perfectly dispiriting Chase Bank sign." Alas, a sign of the times.
6. Caffé Dante
79-81 Macdougal Street, NYC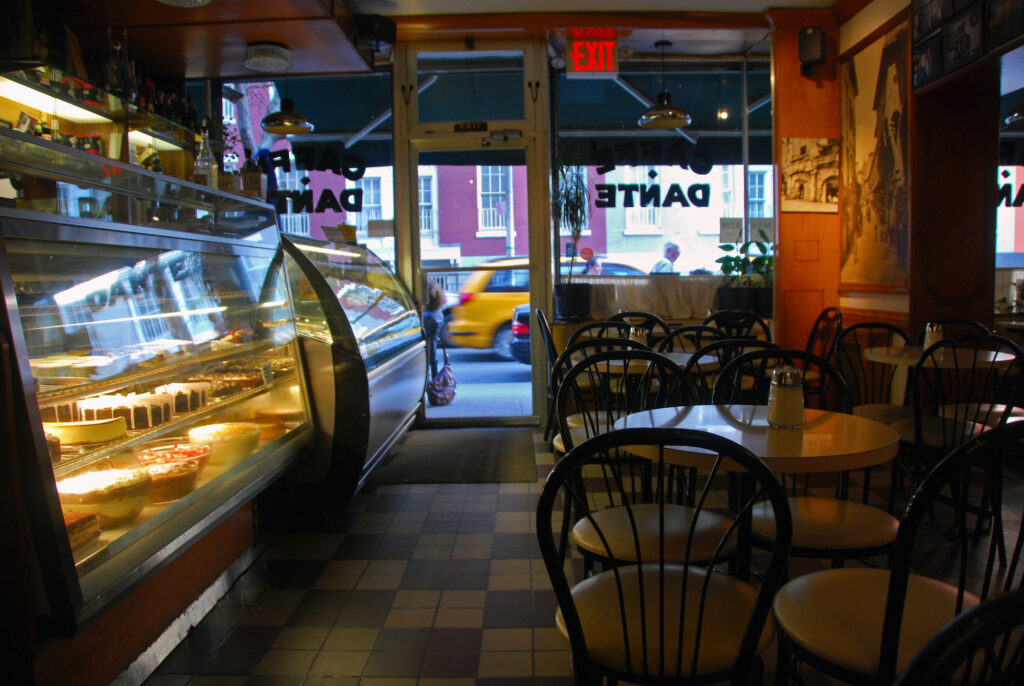 "Let's get a cup of coffee at Dante's," suggested Jay, leading the way to a nearby Old World-style café on MacDougal Street.

—BEATITUDE
Café Reggio was a favorite Beat haunt but Kerouac, Ginsberg, Burroughs and company likely frequented Caffé Dante as well. With its wobbly chairs, worn linoleum and wooden pastry case filled with ricotta cheesecake, cannoli, biscotti and profiteroles, Dante is a slice of the Old Country in the West Village. In Beatitude, Dante is Jay and Zahra's favorite café. Jay takes Harry there and the two reflect on sharing experiences as they enjoy tiramisu with cappuccinos and Kahlua beneath the faded photographic murals of Florence that cover the walls. In real life, Al Pacino, Bob Dylan, Whoopi Goldberg, Robert Maplethorpe and Patti Smith have all done the same. The Caffé changed hands in 2015, and though the new owners have expanded the menu options to include modern Italian cuisine and cocktails, Dante's legendary bohemian ambiance remains intact.
7. Chelsea Hotel
222 W. 23rd Street, NYC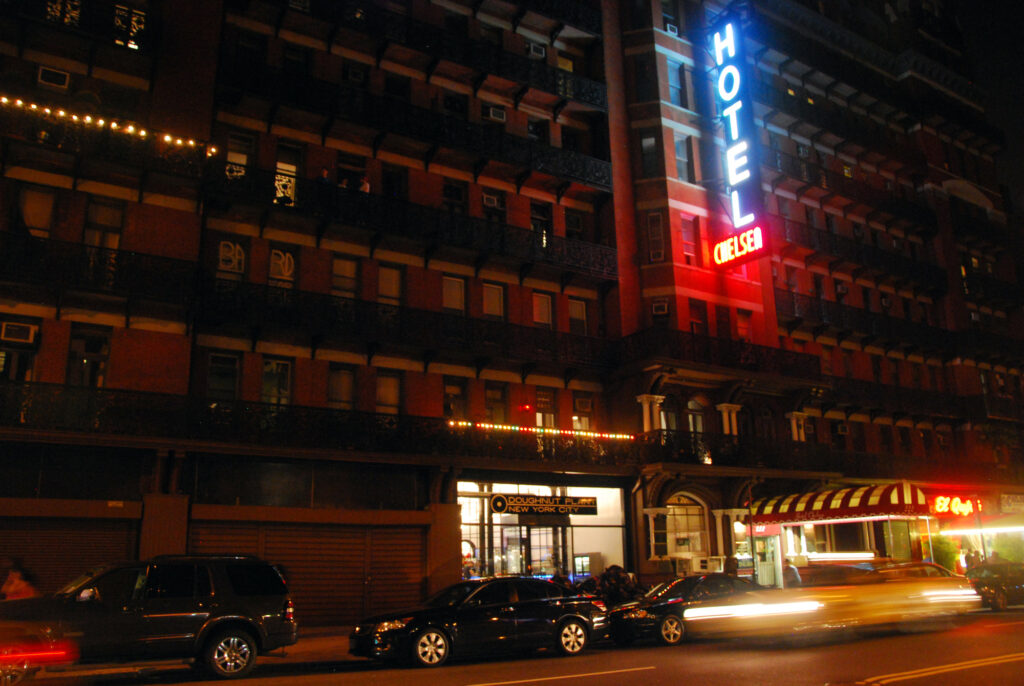 I scanned the shelf in my office for the copy of Palimpsest I'd received, unrequested, a few weeks earlier. A check of the index revealed a whole chapter devoted to Kerouac, titled "Now You Owe Me a Dollar," in which Vidal recounted the night they ended up together at the Chelsea Hotel.

—BEATITUDE
Besides Jack Kerouac and Gore Vidal, nearly everyone ended up at the Chelsea Hotel. Everyone who was anyone, anyway. Built as an apartment building in the 1880s, the 12-story Chelsea was the tallest structure in Manhattan at the time and soon welcomed visitors as well as residents. The Living with Legends blog maintained by tenants calls the Chelsea "The Last Outpost of Bohemia" but it was arguably also the first. In addition to a bunch of Beats—Kerouac, Allen Ginsberg, William S. Burroughs, Gregory Corso and Herbert Huncke—the list of artists and outsiders who have wandered the Chelsea's halls is literally endless, from Thomas Wolfe to Tom Waits, Bob Dylan to Dylan Thomas, Janis Joplin to Jimi Hendrix, Willem de Kooning to Tennessee Williams. Arthur C. Clarke wrote 2001: A Space Odyssey there, Madonna photographed her infamous Sex book there and Andy Warhol filmed Chelsea Girls there. More recently, Patti Smith recounted the years she and photographer Robert Mapplethorpe spent there in her memoir Just Kids. Currently undergoing renovations, the Chelsea is closed to guests and new long-term residents, although 100 residents remain.
8. The Dakota
1 West 72nd Street, NYC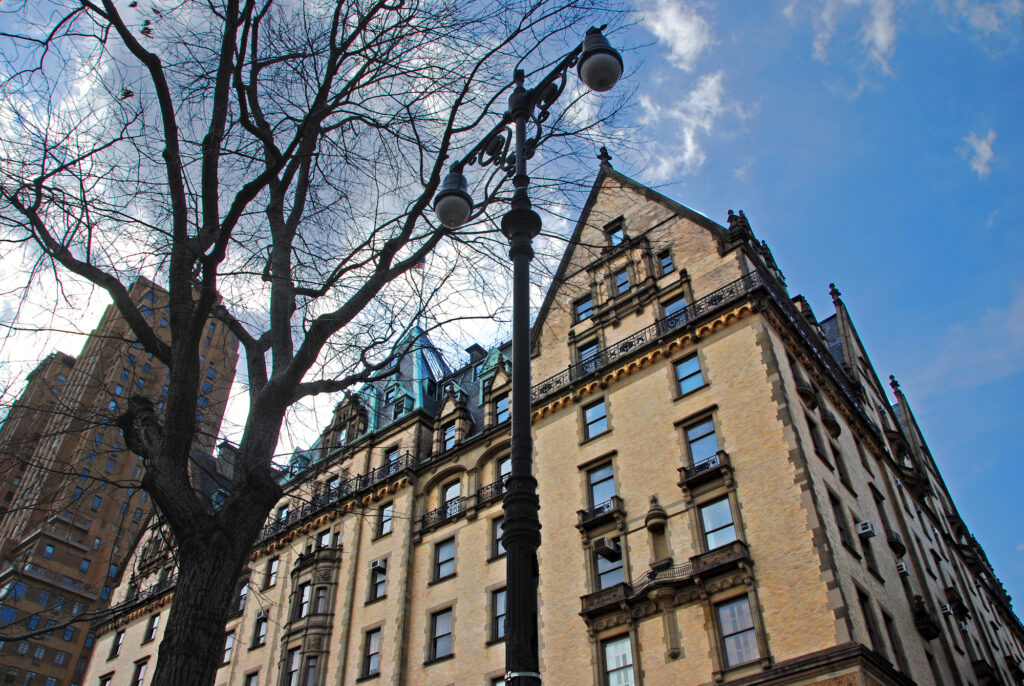 I'd caught a chill that I wasn't able to shake and I shivered in my coat as I struggled up the icy sidewalk by the Dakota and the rest of the two-block walk to my apartment.

—BEATITUDE
When it was built in 1884, the gabled and fabled Dakota stood nearly alone on Manhattan's Upper West Side, so far from any populated area of the city that New Yorkers noted that it might as well have been in the Dakota Territory. So goes the most popular story of how the building got its name. Even so, all 65 apartments were rented before the Dakota opened. So much for location, location, location. Though the Dakota gained fame as the dwelling of the demonic cult in Rosemary's Baby and as the scene of a time-travel experiment in Jack Finney's cult classic Time and Again, it has unfortunately become best known as the place where John Lennon lived and died. In 1980, the former Beatle was killed in front of the building by a deranged fan. Located in the shadow of the Dakota, where Lennon's widow Yoko Ono still lives, is Strawberry Fields, a quiet corner of Central Park dedicated to Lennon's memory. Not a day goes by without impromptu performances of Lennon songs by fans who gather around the centerpiece mosaic that spells out his legacy: Imagine.
9. Deanna Kirk
Singer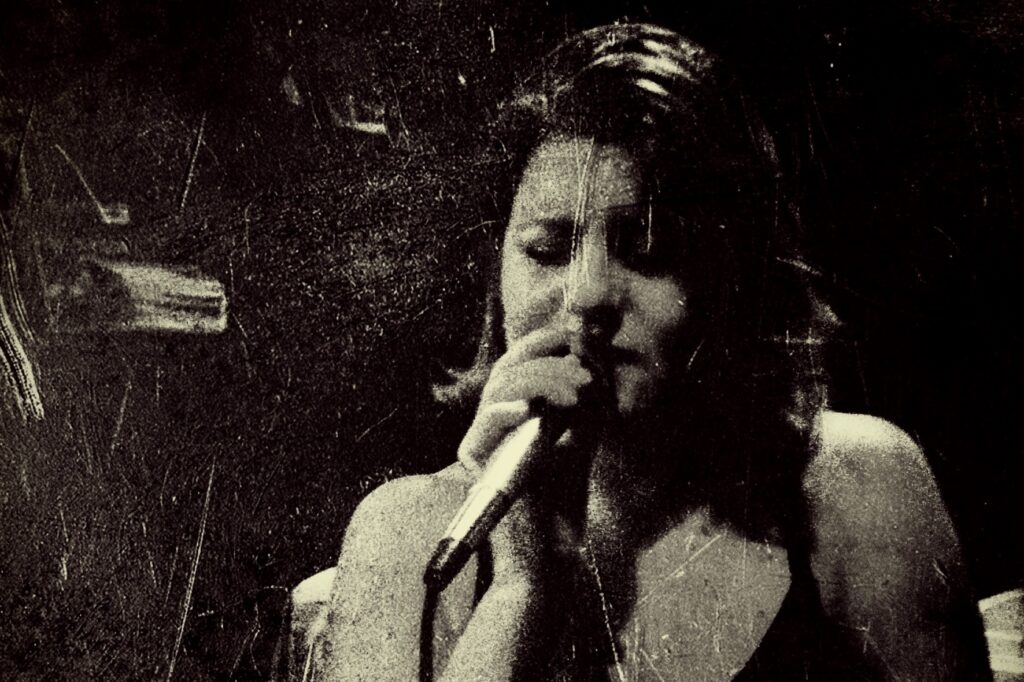 "Yooouuuuu…" she began, softly, slightly, sadly caressing the simple elegance of the jazz standard "You Go to My Head," and somehow managing to simultaneously express the pleasure and pain of being so much in love you can't even think straight.

—BEATITUDE
In Beatitude, Jay takes Harry to see his favorite singer, Deanna Kirk, perform at the Bitter End on Bleecker Street. Harry is overwhelmed by Kirk's voice and vulnerability; I was equally awed the first time I saw her. Kirk is famed as the owner of the vibrant East Village jazz club Deanna's, where jazz greats like Eartha Kitt, Cecil Taylor and Roy Hargrove mixed it up with up-and-comers and Kirk recorded her first CD, "Live at Deanna's." A fire destroyed the club just as Kirk's recording career took off and she released three acclaimed collections of original folk-inflected jazz and pop before taking time off to be a mom. Back on the scene with a CD of jazz standards (Lost in Languid Love Songs), Kirk is as luminous and transcendent as ever, equal parts tender and playful—the unexpected effect, perhaps, of raising a son.
10. Gotham Book Mart
47 W. 47th Street, NYC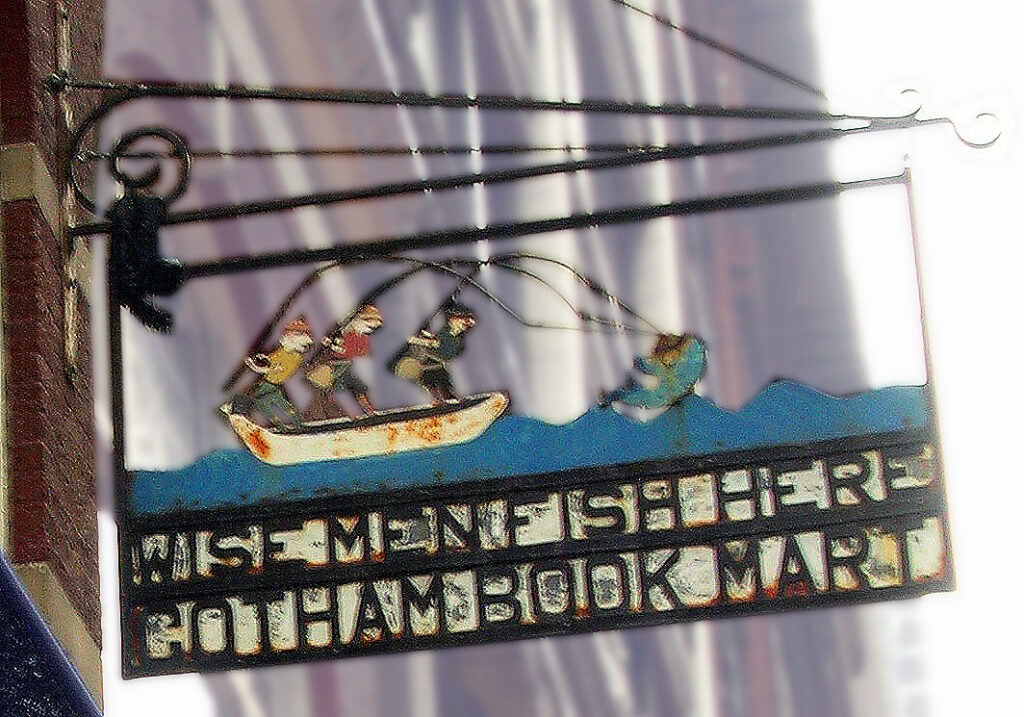 Beneath the store's famous cast-iron sign ("Wise Men Fish Here"), Jay and I paused to study a display of rare James Joyce volumes in the window. A moment later, we proceeded down the three steps to the entrance and went inside, where we were welcomed by the wonderful musty smell of old books and the comforting creak of the polished hardwood floor.

—BEATITUDE
The Gotham Book Mart was the best bookshop in the world, a Manhattan marvel where lovers of great literature, like Harry and Jay, could get lost for hours. To a visitor's eye, it wasn't well organized but that only added to its charm, lending a sense of serendipity to any search of its shelves. If you really wanted to know whether a certain book was in stock, however, you had only to ask. The knowledgeable staff could seemingly conjure any title from thin air, or, actually, from the basement catacombs, which contained as many books as the shop itself. Opened in 1920, Gotham was the Chelsea Hotel of bookshops, a magnet for the literati and glitterati, where Charlie Chaplin, Arthur Miller, Katherine Hepburn, Truman Capote, Woody Allen and Gertrude Stein all prowled the narrow aisles. Allen Ginsberg, Amiri Baraka (then LeRoi Jones) and Tennessee Williams all worked as clerks there, although Williams lasted less than a day. Famed for first and rare editions as well as small press publications and poetry, Gotham was also home to the James Joyce Society and all things Edward Gorey. Gotham closed in 2007, three years after moving a few blocks from its storied location in the middle of Diamond Row, a victim of Manhattan real estate values and competition from online booksellers. The store's estimated $3 million inventory was donated to the University of Pennsylvania's Rare Book and Manuscript Library the following year. No word on whether that included the famous sign. Maybe Harry and Jay will have to find out.
Photo: The iconic Gotham Book Mart sign created by John Held, Jr. Image courtesy of Chris Silver Smith.